MOST COMMON PROBLEM AREAS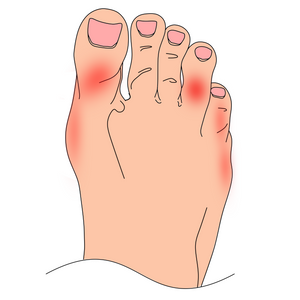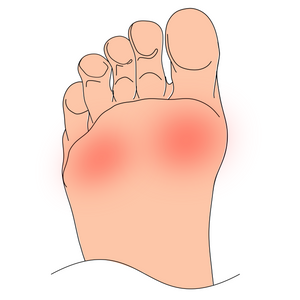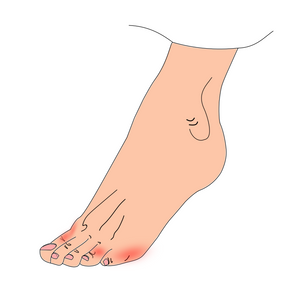 As you walk in shoes, your foot slides back and forth, creating friction. In high heels, with the downward slope of the shoe, this sliding is even more prevalent. This friction leads to irritated, blistered, and sensitive feet — particularly in your toes, soles and on both sides of your feet.
SOLEWELLS® FOOT PADS SOLUTION for fashion shoes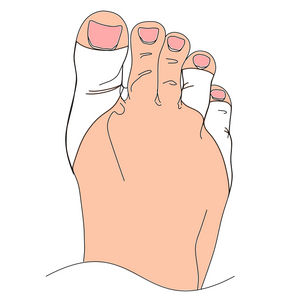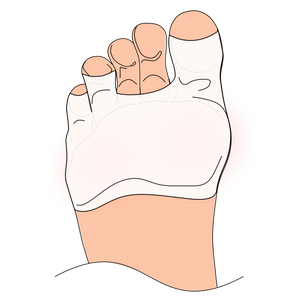 Solewells® provide patented, over-the-foot protection against blisters and sensitive soles by eliminating friction caused by shoes. Our footpads that make the woes caused by heels, flats and every shoe in between a thing of the past.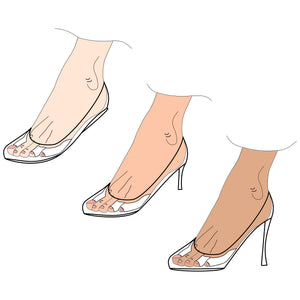 Not Just for High Heels
Solewells work great with any heel height. And that includes flats. Admit it, you have dawned a pair of innocent looking ballet flats or a lovely pair of kitten heels just to discover your toes blistered, feet in pain, foot soles on fire!
No More!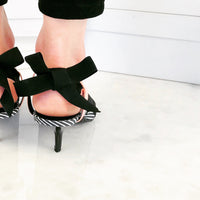 What our customers say....
This is a wonderful product! I have had to travel long commutes to NYC and between train platforms, steps and city blocks, these are a MUST HAVE! Before this product, I would have trouble walking by the end of the day if my shoes were new (you would think I would have learned my lesson)! Now, I don't have to worry or deal with blisters with these fantastic Foot Pads! They are ingenious!

- DDG

When they arrived, I was skeptical. I put them on and tried the high heels on and OMG there was absolutely no pain!

Dorinda
I wear these heels the least because they are very uncomfortable. Last night, I decided to test out Solewells - invisible foot pads designed to prevent pain & blisters around your toes and foot. Result: I was able to dance & prance with No pain or blisters! Can't wait to wear these heels again!!
The footpads are Amazing and there's nothing else like them on the market! It's very hard to see them in the photo below from last night.

- Vera

I wore them with my heels to exhibition in Bangkok. I have wide feet and I hate covered toe shoes because I always get blisters on my feet. I wore them for more than 12 hours.

Cheng JC
To put it simply, this product is by far the most comfortable on the market for blister prevention and pain relief due to irritation from rubbing! The material is thin, soft, and breathes well. Putting them on for the first time can seem complicated but it's very simple. You must watch the how to video on Solewells prior to wearing them for the first time. After that it's a breeze! Your blistered, red and aching feet will never feel the same. You won't be able to wear your shoes without them!

- Amy

These foot pads are my feet's dream come true. I love my heels again!

Becky
These foot pads do what they say. Prevent blisters, and make your feet so much more comfortable inside tight shoes. Highly recommend.

- Ann B.

I don't wear heels, but I do wear a lot of flats. These foot pads did wonders for comfort in my most painful flats. Protected my toes and I felt a little cushion on the balls of my feet when walking. Five Stars for sure!

Kelly C.
No blisters! And the shoes definitely felt more comfortable :)

- Michelle

A shoe loving walker who is now pain free!! Initially by wearing them with wedge boots and could not believe the difference in my comfort throughout the day. I tried them the following day wearing flat boots on a day trip to the city where I again spent the entire day walking with absolutely no pain. I tried them a third time in heels and again, no pain whatsoever.

Nicole S.
As a podiatrist who likes to wear heels...I know, I know...I am quite impressed with this product. The footpads are great for breaking in new shoes, and old shoes that just won't fit right no matter what. When I put these on, I immediately felt the relief in the toes, and balls of my feet felt (like they had an extra layer of fat that has been lost over the years).

- Sam S.

What a find! Great product, love how my feet are protected with these foot pads. Not a blister in sight, No More Tourn Up FEET! Thank you Solewells!

Kacey N.
After searching for years for a solution, I am so glad I found these foot pads. I have very sensitive feet, wearing heels is a problem and no matter the shoe I am always suffering from blisters. I take great care of my feet, so they are as soft as a baby's bottom. These foot pads make wearing shoes on barefoot so much more comfortable. Excellent product.

- Clara C.

When it comes to foot pads, I found that these are the only ones on the market to work with high heels. Excellent preventative for someone who is in heels all day long. Your feet will thank you!

Nadean
I have done it so many times - bought a pair of shoes for looks vs comfort because I *must* have them. Then, when the time comes to wear them, and 5 minutes in, i feel a blister starting to form, I ask myself "what was i thinking buying these?"...and here goes another pair of shoes into the pile of "those that must not be worn". If you're recognizing yourself reading this, try Solewells! They're like a seamless layer protecting your feet from those not so comfortable but oh so pretty shoes.

- Natalia

These foot pads do exactly what they say. It would be great to auto-ship, I need about 3 pairs a month of everyday wear.

Pam A.
These foot pads do exactly what they say. It would be great to auto-ship, I need about 3 pairs a month of everyday wear.

- Pam A.

More comfortable and effective than other foot pads and insoles on the market. I have tried them all.

- Inna

Super Pads! I am able to wear my fashionable shoes again. Love the material these foot pads are made of. They fit snugly over my feet and do not add bulk inside my shoes unlike other products out there. So glad I found these gems.

SD
FOOT PAD FIT AND CARE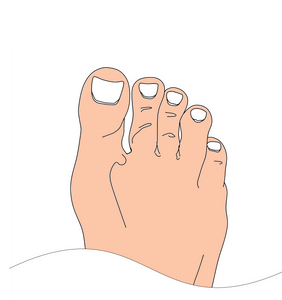 1. PUT THEM ON
Start by putting on the fourth (4th) and pinky toe loops, followed by the big toe loop. Slide the big toe loop half way onto the toe. Then insert your index finger into the big toe loop and gently rotate the loop to position the rest of the way. Do not pull on the foot pads like socks.
2. FOR BEST FIT
Foot pad should fit snugly against the foot, like a second skin and not be loose on the sole of your foot. For a snug fit: insert your index finger into the big toe loop and gently rotate the loop. Turn the big toe loop in to tighten, out (if you have wide feet) to loosen (see image).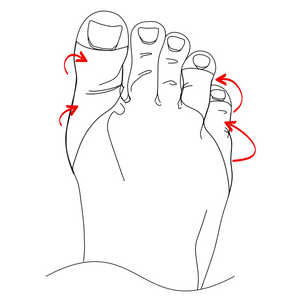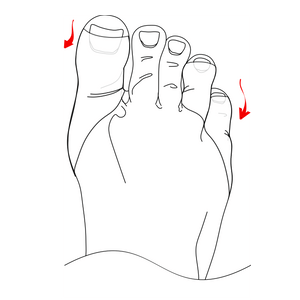 3. ADJUST
If the toe loops are longer than the edge of your shoe, move the loops down your toes toward your foot. Do not yank on the toe loops, insert your index finger into the big toe loop and gently rotate the loop down.
Depending on the type of shoes*
Adjust the toe loops accordingly:
* Closed toe shoes - make sure your toenails are covered by the toe loops. As you slide your foot in the shoe, try to lift the big toe slightly, to prevent foot pads from rolling up.
* Open toe shoes - lift the toe loop from the toe side and slide the toe loop down. But be sure not to go too far from the edge of your toenail.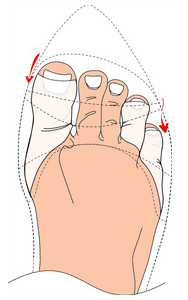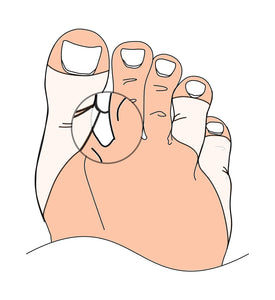 When worn correctly, you will see a small section of the sole pad between your big and second toes. If you do not see it, the foot pad is too high up your foot.
Put shoes on immediately after Solewells® foot pads. DO NOT walk around in foot pads without shoes.
4. CARE & REUSE
Wash with warm water and liquid soap under the faucet after EVERY wash (to prolong tackiness). Lay flat to dry on a paper towel. Store in the original box. Throw in your bag and they are ready to be reused!
Solewells® foot pads are strong but delicate, treat them like your favorite pantyhose and you will get several wears out of them. Alternatively, rough treatment may expire foot pads sooner. This is a guideline only.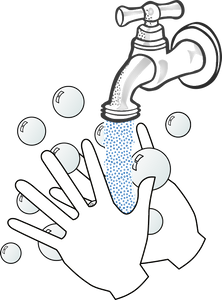 Solewells® also work well under stockings or socks.